A Time to Worship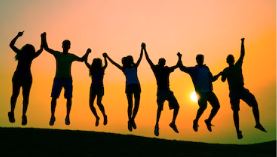 Psalm 100: 1-2 Shout for joy to the Lord, all the earth. Worship the Lord with gladness; come before him with joyful songs.
One Sunday morning, the pastor noticed little Alex was staring up at the large plaque that hung in the foyer of the church. It was covered with the names of those who had died at war. The seven-year-old had been staring at the plaque for some time, so the pastor walked up, stood beside the boy and said quietly, "Good morning Alex."
"Good morning Pastor," replied the young man, still focused on the plaque. "Pastor, what is this?" Alex asked.
"Well, son, it's a memorial to all the men and women who have died in one of the services."
Soberly, they stood together, staring at the large plaque. Finally with a puzzled look on his face, little Alex asked, "Which one, the 8:30 or the 10:00 service?"
I wonder if little Alex is saying something about what happened in the services of his church. The writer of the psalm starts with these words, "Sing to the Lord, all the world! Worship the Lord with joy." He is excited about coming to worship. He encourages everyone to sing with all their heart. He wants us to be thrilled at the prospect of coming to worship to meet God who wants to minister to us in our needs. He wants us to worship the Lord with joy.
We come here, to Grace Lutheran Church, to meet God. God ministers to us as he speaks to us after we have confessed our sin. He announces that our sins are forgiven through the death and resurrection of Jesus. The burden of guilt has been lifted from our shoulders and we are assured that God's love is still red hot for us, every though we have disappointed him so much.
We come here to meet God and he ministers to us through His Word. We hear again the words of promise, comfort, reassurances, and hope from God himself. As God ministers to us through our time here, that message is spoken to us again by God through His Word and our worship. No matter what is happening in our daily life, we are reminded that God is real; His power to help is real; we are His people; His love for us never ends.
We come here to worship God because He is worthy of our praise. A children's song says, "God is so good, hallelujah. God is so good, he's so good to me".
There are times when we would have to confess that we have gone to worship more out of a sense of duty than because we wanted to. Have you noticed that when your attendance at worship has dropped off or the thought of going to worship is not filled with anticipation and joy, it's because somehow you have lost sight of the purpose of why you go to worship? Somehow you have lost sight of the goodness of God in your everyday life. For some reason, you don't see that God has a powerful effect on your life and you take all that he gives for granted. That is when you should come to worship.
Worship is a time when God ministers to you,
a time when God brings you into an intimate relationship with him through Word and Sacrament,
a time when God strengthens you to face the hurts, problems and crises of your every day life,
a time when you can praise and thank God for all His goodness,
a time when you can serve others specially through your prayers,
a time when you can respond with thanks and joy.
Yes, we do have a wonderful God. Let's listen to the psalmist when he calls out, "Sing to the Lord, all the world! Worship the Lord with joy; come before him with happy songs!"
Submitted by Nathan Krause